Description
---
GROWNSY U-V*C Sanitizer – Parent's Best Helper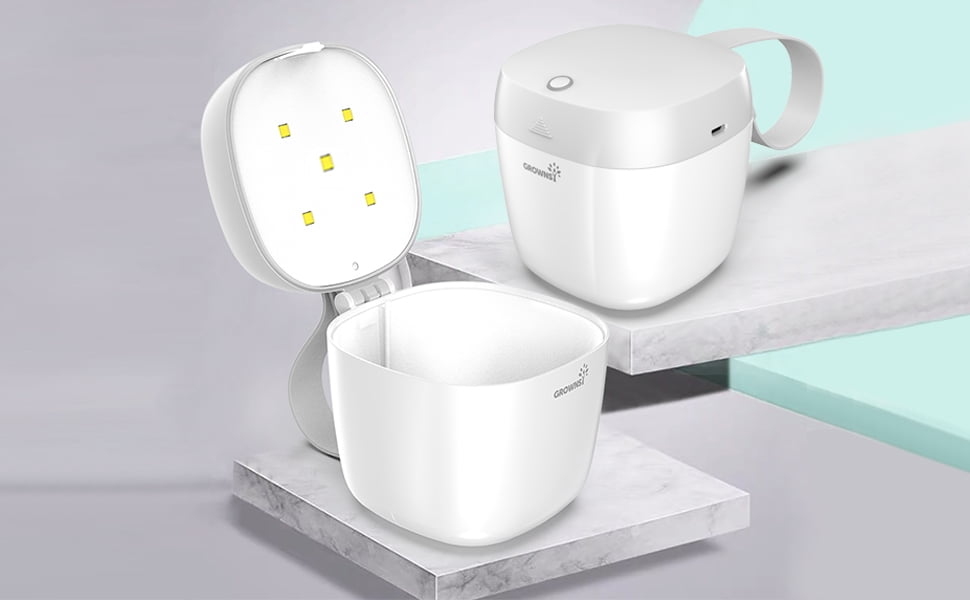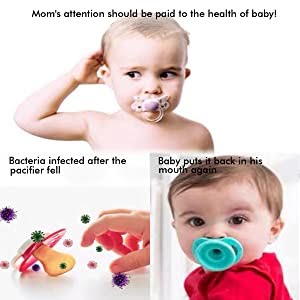 59S device utilizes UV-C LEDs to disinfect surfaces
As a new parent, it is important to prioritize protecting your baby from harmful UV rays and sun exposure while enjoying outdoor activities.
The Portable U-V*C Sanitizer is a product that reflects GRWONSY's care and love for its customers. This powerful sterilizer can provide peace of mind by killing 99.99% of harmful substances from baby items, such as pacifiers and bottle nipples, within just 59 seconds. Its portable design makes it easy to use and carry, ensuring that your baby's items are always clean and safe.
Using the GROWNSY sterilizer is as simple as placing the item to be sterilized inside and waiting for 59 seconds. The compact size of the device allows for easy attachment to a purse or diaper bag, making it a convenient tool to use.
Rechargeable

The GROWNSY U-V*C sanitizer, which utilizes USB charging and comes with a USB cable, can be fully charged and used for up to 90 minutes, allowing for 90 uses of 59-second sterilizing or 30 uses of 3-minute sterilizing.

Imported UV-C led

Compared to traditional germicidal lamps that emit ultraviolet light with peaks at 253.7 nm and 185 nm due to the mercury content, UVC LEDs are a more environmentally-friendly alternative with a longer lifespan and no mercury component.

MULTIPURPOSE

Ultraviolet radiation can be used for sterilizing a variety of objects including pacifiers, bottles, toothbrushes, intimate clothing, jewelry, beauty tools, and even mobile phones.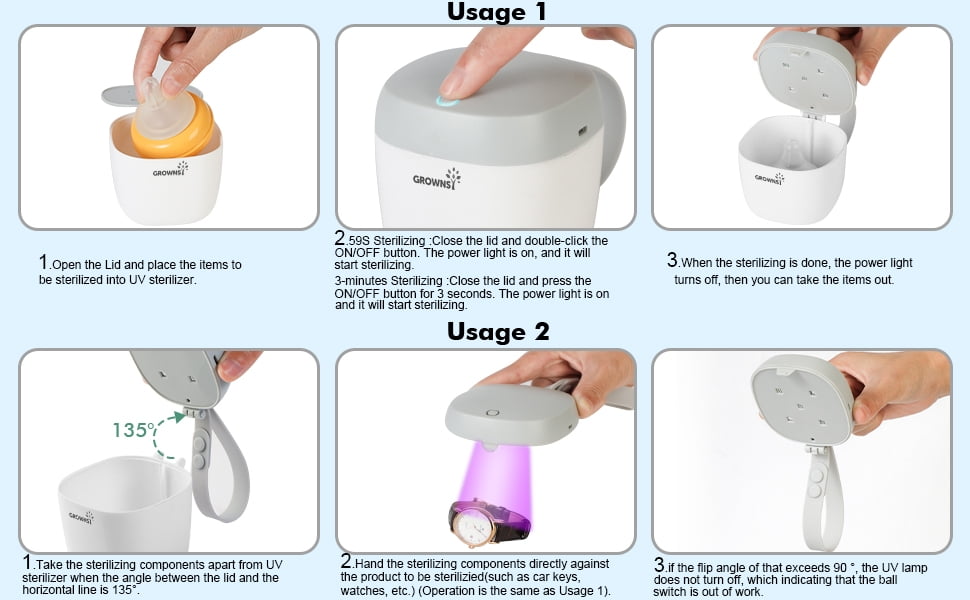 Warm Tips:
Sterilizing components can be used to sterilize household items like mobile phones, toys, remote controls, and glasses.
Hold the sterilizing components steady during sterilization and ensure the desired level of sterilization.
Avoid quick movements of the sterilizing components while in use.
Keep the sterilizing component close, no more than 2-3cm away from the items to be sterilized.
The sterilizer has a built-in ball switch that produces a slight sound when shaken, which is normal.
To prevent people from being irradiated by the LED, the allowable tilt angle is 45° ± 5°.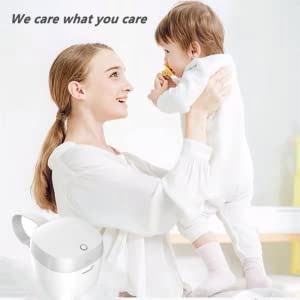 An Ideal Gift for New Parents
This product features a modern, elegant, and versatile design that is crafted using high-quality materials, ensuring durability and longevity. Additionally, the user manual is both practical and readable, making it an excellent option for gift-giving. Get your hands on it now and carry it with you wherever you go!