Description
---

The LAREX
Hi there, Mom! We understand how important it is for every parent to provide their baby with the best possible start in life. As babies are not yet strong enough to protect themselves, it's crucial to take measures to reduce the chances of them getting sick in the first place. That's why we're here to help with our baby essentials that are designed to make your parenting experience easier. Our LAREX baby bottle sterilizer is the perfect tool to keep harmful stuff from being transmitted during feeding time, giving your baby's delicate body a helping hand. With our sterilizer, you can rest assured that your baby is safe and protected.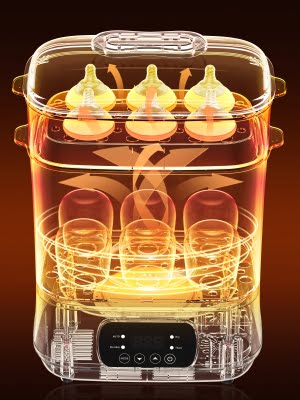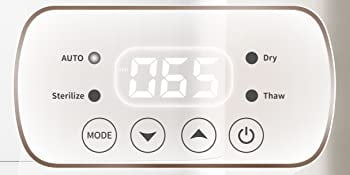 Panel Control
AUTO: Sterilize and Dry

Sterilize: Only Sterilize Baby Items.

Dry: Only Dry Baby Items

Thaw: Heating Baby Food
Why do you need a LAREX baby bottle sterilizer?
In the era of the current environment, you cannot be too safe!
Ultraviolet radiation is a useful sterilizing technique that can be implemented in the LAREX bottle sterilizer machine to clean everything from bottle nipples to teethers and pacifiers.
Sterilization using ultraviolet radiation is a time and energy-saving technique.
It is BPA-free, eliminating the risk of harming the baby bottle.
The process is easy to operate and does not deform the baby bottles due to heat.
It takes 8~10 minutes to completely sterilize the bottles, with an in-built timer for auto shutdown to stop the use of excess power.
The sterilizer can accommodate up to 6 bottles at a time.
The compact design makes it easy to fit in any corner of your kitchen.
Larege Capacity

The product has enough space to accommodate 6 bottles and various baby products.

Easy to Clean

The baby bottle sterilizer can be easily cleaned using a solution of vinegar and water.

Effective air filtration system

Effective filtration methods for removing harmful things and pollutants to prevent secondary pollution.