Description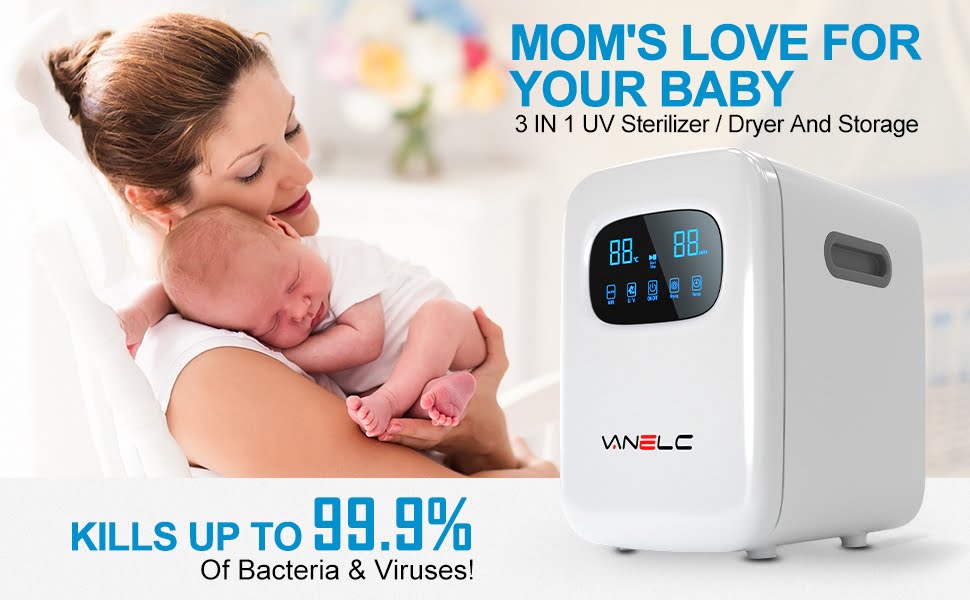 Air purification and sterilization methods using UV radiation can effectively dry and sterilize surfaces without the need for steam or water.
Our Baby UV Sterilizer and Drying Station offers protection for your baby by combining PTC heating element with low-temperature technology for drying and dual UV lamps for sterilization. It can sanitize baby bottles, pacifiers, and other items in just 20 minutes.
Ultraviolet lamps are commonly used to sterilize workspaces and tools in medical facilities, including bottles, teats, pacifiers, breast pump accessories, and even household utensils. The germicidal effectiveness curve of low-pressure mercury-vapor lamps peaks at 265 nm, damaging the DNA/RNA of microorganisms and making them harmless, effectively eliminating harmful bacteria.
UV sterilization is a gentle and chemical-free way to effectively kill harmful germs and bacteria, providing peace of mind during feeding. This technology is used by every sterilizer to achieve a 99.9% kill rate.
UVC LED technology can eliminate the odor molecules present in milk or formula residue, ensuring that there is no residual smell. This helps in enhancing the appetite of the baby and is particularly effective for cleaning baby feeding bottles, pacifiers, sippy cups, and other toys.
Note:
This sterilizer has a ventilation function. After disinfection, the product has a residual disinfection smell. Please leave it for at least half an hour before using it;
If the baby bottle has quality problems, it is not recommended to use the drying function or long-term sterilization, please replace the bottle in time!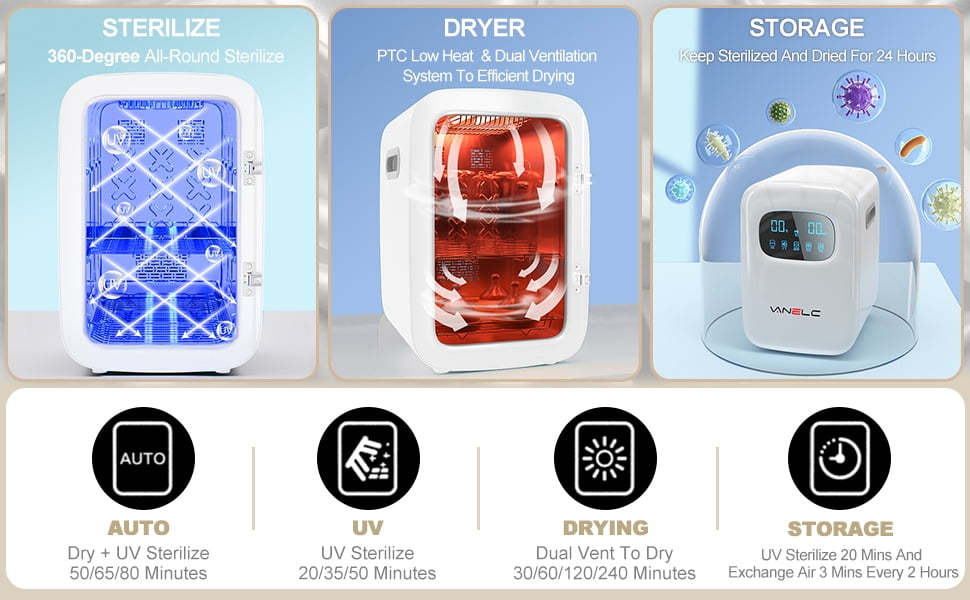 Ultraviolet radiation can be used as a sterilizer without the need for noisy settings, water, or steam, making it an efficient and dry method for sterilizing equipment and eliminating the need for wet bottles.
The sterilizing box powered by UV LED technology is a versatile device that provides sterilization, smart temperature control drying, and sterile storage. With a single click, it can achieve a 99.9% sterilization rate, making it a safe and reliable way to take care of your babies.
FUNCTION
Auto: Dry & Sterilizes – No More Air Drying Needed!
Automatically dry and sterilize in 50/65/80 minutes. Effortlessly one touch of the selection.
UV Only: 99.9% Sterilizing Power – Lab Proven!
Using dual UVC lamps, tested to safely and efficiently eliminate 99.9% of harmful bacteria.
Dry Only: High-Efficiency FAN & High-Tech PTC Heater
Self-regulating – The PTC low heat with dual vent uses low temperatures to safely and efficiently remove moisture without damaging the object and prevents bacteria growth; No risk of overheating and ignition!
Storage: Keep Items Sterile with Auto Sterilizing Every 2 Hours
Acts as a handy storage unit. This mode activates UV every 2 hours to keep your object sterile throughout the day.
For Phone And Electronic Devices, Only UV Mode Can Be Used!
Stainless Steel Dual-Tier Racks
Interior and racks constructed of 304 stainless steel, protects against rust and mineral scale.
Removable double-layer racks for easy storage. The lower rack holds standard bottles. The upper rack can be used for nipples, toys, teethers, pacifiers, etc.
Smart Safety Design & Wide Opening For Easy Access
Auto-off when the lid is opened during operation; The door on this baby bottle sterilizer opens a full 180 degrees for easy access!
Easy To Clean – Simply Wipe With a Clean Cloth
The ventilation filter on the UV Sterilizer will never need replacement. The interior and exterior only required a simple wipe with a clean towel.
LCD Large Display & Effortless Touch Control

The touch control and digital display on the panel make it incredibly convenient and easy to use.

18L Large Capacity & Compact Size

The product is a spacious and compact organizer ideal for holding bottles, pacifiers, cups, toothbrushes, and tableware, freeing up valuable counter space.

LED Smart Sensor Light

Our LED lights automatically turn on when the lid is opened, providing visibility in low-light conditions.
Using UV radiation to sterilize workspaces and tools is a common practice in biology laboratories and medical facilities.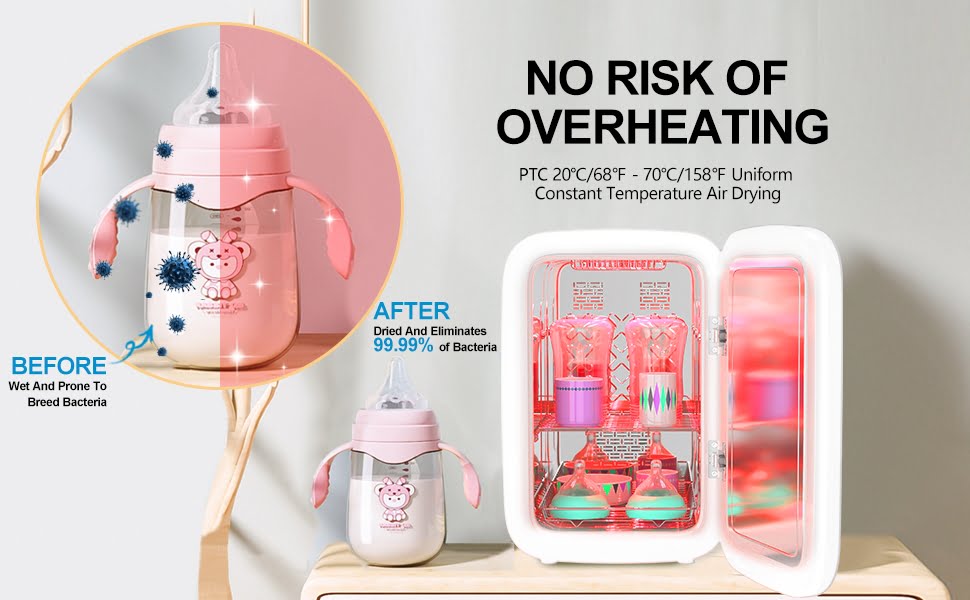 UV Radiation: A Lifesaver for Sterilization in a World of Deadly Viruses.